#Auntichella was too lit!! Here's a round by round recap.
I am still hype over the Gladys Knight/Patti LaBelle Verzuz!! What an awesome evening it was: Good vibrations, Auntie conversations, and Ciroc on the libations! I was and am here for the White Diamonds, pantsuits, and pressed powder of it all. Yassss!! 
INITIAL OBSERVATIONS
Verzuz done glowed all the way up!! First of all they started on time. Y'all remember when the shows would start 30 – 40 minutes late? Well now they have ditched CP time, and embraced the Greenwich Mean of it all. I'm a fan. They had a DJ/Hype man that was 100% on point (thanks to de yard man dem Beenie Man and Bounty Killer for introducing that necessary element), playing all the grown folks' music that could fit into the 15 minute warm-up window. 
Apple has helped and hindered. I'm happy that Apple has helped the Verzuz brand extend their reach by making the live streams available on AppleTV, but I'm not a fan that (as of this writing) Vezuz is no longer posting the videos of the events for posterity. I'm hoping that this is a temporary glitch, because half the fun is going back and re-watching the highlights. The videos of the recent Brandy vs. Monica battle, and all the preceding ones, are still available on the Verzuz IG account, but for some reason Auntichella is absent. No bueno. In the meantime, if you missed it and want to watch, here's a bootleg version.
Etiquette is a thing again. It was so adorable that Auntie Patti didn't even realize at first that they were already live. But even once she did, she and Auntie Gladys kept sweetly chatting to each other, catching up, as aunties do, about their kids/grandkids, why they both love cooking, their favorite foods, times they spent together on the road, and more. The Aunties reminded us of the art of small talk. It was utterly delightful. 
Love was in the air. It was not a contest. Clad in Sunday-best pantsuits and wearing Sunday-best hair, they greeted each other with a bow, and proceeded to fangirl out over each other. You could truly see and feel that they think of each other as sisters. When Gladys said "I love your high notes!", Patti replied "And I love your low ones!" That was the tenor (pardon the pun) of the entire night. Sisterhood. Empowerment. Encouragement. Support. Respect. Love.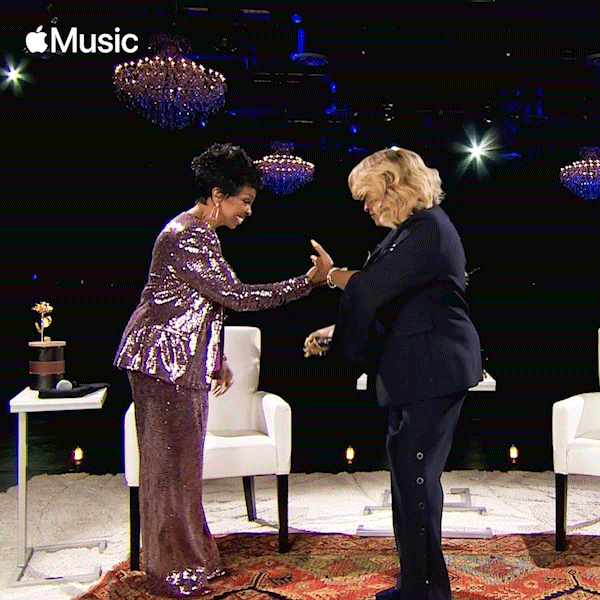 THE BATTLE
Again – not really a battle. More of a love-fest and musical masterclass. Here's how it all went down:
Round 1
Patti: Alright Now
Gladys: You're The Best Thing That Ever Happened
Winner: Gladys because it's better known. And she sang the full thing live. But Patti held her own, kicking the Verzuz off with her high-energy, upbeat number.
Round 2
Patti: If You Ask Me To 
Gladys: Make Yours a Happy Home
Winner: Patti. She hit that high note live like it was nothing. While seated. She also made sure to let us know that she did this first before Celine Dion. (Don't worry, Auntie Patti. We know you are the blueprint.) Like Patti in the first round, Gladys more than held her own,  singing hers note for note with seemingly with zero effort.
Round 3
Patti: Turn It Up!!
Gladys: Every Beat of My Heart 
Winner: Tie. It's hard to beat the Beverly Hills Cops soundtrack, and Gladys' choice was her first-ever song, which was one of her 11 (yes, el.ev.en) number one hits.
Round 4
Patti: If You've Been Blessed
Gladys: On and On
Winner: These are all so hard to call. They both won in different ways: Patti for the notes, Gladys for the funk. Let's call it another tie.
Round 5
Patti: If You Don't Know Me By Now (Live version)
Gladys: License to Kill
Winner: Straight tie. Auntie Patti's song is a bona-fide classic, while Auntie Gladys' was from the soundtrack of the James Bond movie License To Kill. And Bond is, well…James Bond.
Bonus for the Culture_1: Gladys came in on Patti's song with the sultry – and flawless – alto background vocals.
Bonus for the Culture_2: Auntie Gladys admonished the young 'uns: "Don't y'all be out there killing nobody," she said. "I ain't giving you a license to kill." Aunties will aunt.
Round 6
Patti: My Love Sweet Love (from Waiting to Exhale)
Gladys: Midnight Train to Georgia
Winner: Gladys wins cause a) it's Midnight Train to Georgia. Nothing will ever beat that;  and b) It's a major flex to play your biggest hit randomly in the middle of the battle. This round solidified that the night was really not a competition, so much as an extended conversation/catch up, accompanied by iconic music.
Round 7
Patti: Love, Need, and Want You 
Gladys: Someone To Watch Over Me
Winner: Patti
Bonus for the Culture_1: Miss Patti threatened the teleprompter guy!! Lolol!! She has difficulty remembering some of her lyrics – no shame there at all – and needs them put up on the teleprompter to help her out. Homeboy got some of it wrong, and Auntie said: "Put my lyrics up on the next one or you gonna get cut." She claimed afterwards to be joking, but…I'm not so sure, hahaha.
Bonus for the Culture_2: Gladys sang bg vocals for Patti again! Yay! Also: Miss Patti revealed that she still has a flip phone. Aunties do Auntie things, lolol. I love it. 
Round 8
Patti: Right Kinda Lover 
Gladys: Friendship Train
Winner: An almost-tie (Can you tell I'm having a hard time choosing?? Lol.) Ok I'll give Patti the win because that Beverly Hills Cop soundtrack song was such a smash, but Gladys gets points for the timeliness of the message in her song.
Round 9
Patti: Somewhere Over The Rainbow
Gladys: Neither One Of Us
Winner: Gladys. Possibly the only person who could "beat" Auntie Patti's version of the classic standard.  
Bonus for the Culture: Patti kicked her shoes off!!! Yasss!! Then she took out her mirror to fix her lipstick. Gold plated filigree hand mirrors are probably sold out worldwide now. She also did a shoe change. Not just any shoes, y'all. Louboutins. Of course. Whew…to be that fabulous.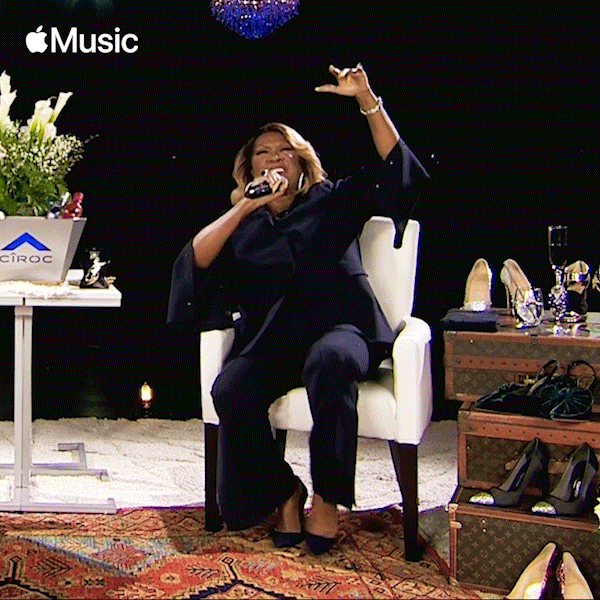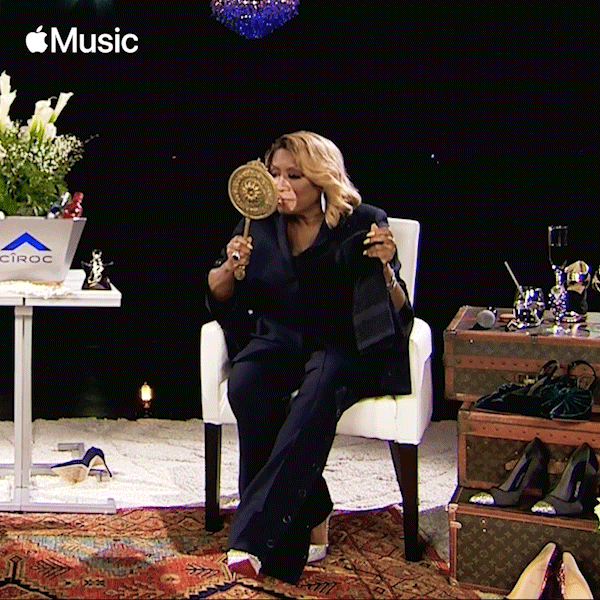 Round 10
Patti: Somebody Loves You Baby.
Gladys: Number 1 In My Book
Winner: Patti, easily.
Round 11
Patti: Kiss Away the Pain
Gladys: Keep On Keepin' On
Winner: Gladys. Auntie served us: Vintage vibes. Horns. Violins. Orchestration. A top 10 hit. No contest.
WAIT, WHAT HAPPENED??
At this point the straight 1:1 verzuz structure became a litlle more fluid. At first it was confusing (we like our structure) but then it was like…it doesn't even matter. Let the aunties do what they wanna do how they wanna do it. We bow at their feet. With that, let's move on to:
Round 12
Patti: New Attitude 
Patti again: On My Own
Gladys: Midnight Train to Georgia?? Again?? I was so confused, but hey…you can never hear Midnight Train too many times, right? This time Auntie sang it 100% live, so that was definitely worth it. 
Winner: Patti, because she came with more gold from Beverly Hills Cop, as well as her famed duet with Michael McDonald.
Round 13
Patti: New Day
Patti: Feels Like Another One
Patti: ABC (from Sesame Street)
Patti: Lady Marmalade
Gladys: Love Overboard
Winner: Patti, by sheer numbers, but tbh it still felt evenly matched. Gladys sang her song live this time as well, so that was worth a lot. Had it been one song each, the outcome might have been different. It has to be said though, that Gladys was not in the least bit concerned that Miss Patti played/sang 4 songs!! Shoot…she sang along to some of them. We must learn from this, people. She let her extra friend be extra, and supported her in being extra. All of y'all that use the #womensupportingwomen hashtag: this is what that actually looks like. 
Bonus for the Culture: Gladys got up and danced.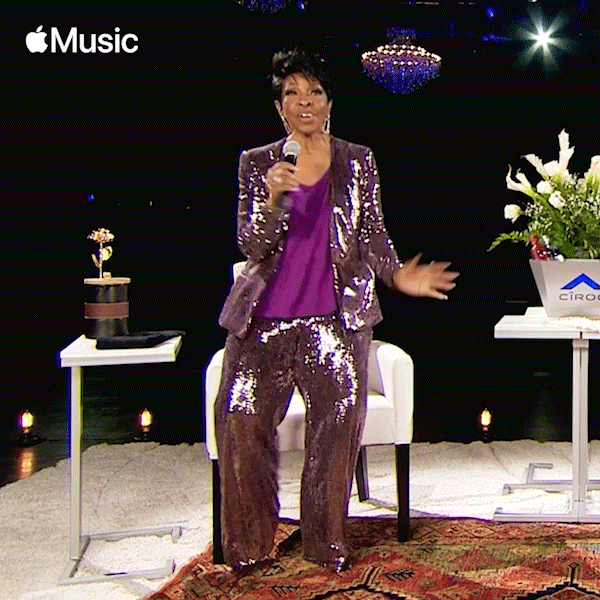 Round 14
Patti: You are My Friend
Patti: If Only You Knew 
Gladys: That's What Friends Are For
Winner: Gladys, because…
Bonus for the Culture_1: OMG DIONNE WARWICK came out and they all sang together!!! AND she was also wearing a fabulous pantsuit!! Yasss!!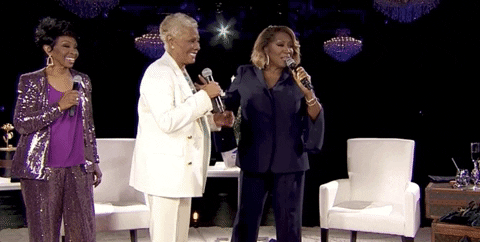 Bonus for the Culture_2: They all missed their cue for the second verse and helped each other catch back up. Take notes, young heffas. Take notes.
Bonus for the Culture_3: Patti dedicated You are My Friend to Gladys and it was literally the sweetest thing.
Round 15
Gladys, Patti, and Dionne: I'm Not Your Superwoman
Winner: The Culture. We saw, and heard greatness in action. These national treasures blessed our ears and hearts. What a night to remember.
---
Like what you read? Show it some love! Leave a like/comment, follow me on social media, and support my work.
Text ⒸLisa Hurley/@happyhappyphoenix. Images ⒸGiphy/Verzuz